BOSQUESCUELA impulsa el modelo de Educación Infantil al Aire Libre. En 2015 se inauguró el primer centro homologado de España. Somos una iniciativa de una amplia red de profesionales y entidades...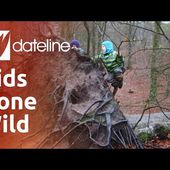 Kids Gone Wild: Denmark's Forest Kindergartens
Children are running wild in the mud, climbing high into trees and playing with knives, but no one is telling them off. This is kindergarten... Danish-style. For more on Amos Roberts' story, go to ...
What is a forest school ?